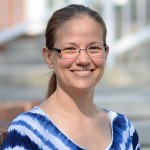 Ioana Emy Matesan is an Assistant Professor of Government and a Tutor in the College of Social Studies at Wesleyan University. She is also a core faculty member for the Middle Eastern Studies minor, and the Muslim Studies minor.
Matesan's research focuses on contentious politics and politics of the Middle East, with a particular interest in political violence, democratization and Islamist movements. Her book, The Violence Pendulum (Oxford University Press 2020), examines what drives Islamist groups to shift between nonviolent and violent tactics. Drawing on a wide variety of archival materials, interviews and reports, the analysis traces the historical evolution of four key Islamist groups: the Muslim Brotherhood and al-Gama'a al-Islamiyya in Egypt, and Darul Islam and Jemaah Islamiyah in Indonesia. The book's main contention is that Islamist groups alter their tactics in response to changes in the perceived need for activism, shifts in the cost of violent versus nonviolent resistance, and internal or external pressures on the organization. Escalation and de-escalation are not simply mirror images of each other. Groups turn towards violence when their grievances escalate, violent resistance is feasible and publicly tolerated, and there are internal or external pressures to act. Organizations may renounce armed action when violence becomes too costly for the group, disillusionment eclipses the perceived need for continued activism, and leaders are willing to rethink the tactics and strategies of the group.
Matesan has also published on the link between insecurity and political violence, how armed non-state actors respond to mistakes, Hamas and the Israeli-Palestinian conflict, new security challenges in the Middle East and North Africa, and the dynamics of resistance to foreign rule.
Matesan holds a BA in Political Science and Economics from Monmouth College, a Master's degree from Arizona State University, and a PhD from Syracuse University. At Wesleyan she is excited to teach courses in comparative politics, Middle East politics and terrorism and film.